Dear Ken, please see my comments below,
-Rich
Sincerely,
Rich Cooper
EnglishLogicKernel.com
Rich AT EnglishLogicKernel DOT com
9 4 9 \ 5 2 5 - 5 7 1 2
---
From: ontolog-forum-bounces@xxxxxxxxxxxxxxxx [mailto:ontolog-forum-bounces@xxxxxxxxxxxxxxxx] On Behalf Of Ken Laskey
Sent: Tuesday, January 03, 2012 7:15 PM
To: '[ontolog-forum] '
Subject: Re: [ontolog-forum] Self Interest Ontology: Emotions in animals
Rich,
I'm not sure all situations can be unambiguously decomposed.
That is correct, I agree that not ALL situations can unambiguously fit to the model. But the model can return a response as a list of components, and interconnections. The words describing the KINDS of components and assemblies exist.
If that situation can be cost effectively subdivided into components and interconnections. In other words, by keeping a database of descriptions by different Observers, you are actually collecting, discoverying and measuring the bias, i.e. the self interest ontology, of that Observer plus a lot of noise in any one situation.
Add more reports from that Observer to the database, and you will begin to see order in that Observer's ways of recording things. That order is the habitual response of the Observer in the enterprise. Whatever it is, it can be sensed, measured and Observed with all the equipment commonly available to businesses and governments and even to occasional citizens.
So identifying the Observer's bias is improved as you gain experience, i.e., as you collect more data, discover-process the data, improve the focus by what has just been learned and added to the database, and record the distinction between signals and noises as the system and Observer interpreted them at the time of measurement.
The IDEF0 standard can represent anything in terms of description as you build models. The AsIs and the ToBe models are each approximations (not reality signs) of the data they have discover-processed in the stepwise performance of IDEF0 models as required to match the sensors, Observers and analysis tools to do the actual learning steps of induction, deduction and conduction as needed by logicists.
There are certain classes of problems that have holes in all proposed models and it may well be self-interest when identifying the one that is most accurate. Given two choices, one may turn out to be more accurate and that side will feel vindicated that they did a "better" job when all that happened was science/history/whatever in that instance better conformed to their prejudice. Deciding whether economic policy actually had a positive or negative effect is certainly in this category.
Ken
I certainly agree with that also. Economics is as difficult to discuss civilly as Politics, and I think that self interest is the explanation which describes an Observer's bias, any Observer, to some degree that varies with each one. That is why we need ways to sense our actions, test them for validity, subjectivity and other personal facts so that those factors can be offset from the calculations when required. Measurement and discovery makes a database with measured detailed history of the model component and assembly, and the learning curve makes them more efficient as experience is gained within that discovery step.
After that discovery step A has been completed, the Before and After situations are known as discovered during the step. So now we have a decomposition of activity A in terms of a Before and an After situation. Those we model as TYPES of situation, using whatever language was the basis of the description. We discover another situation in the database which is composed of instances of those same TYPES, as best APPROXIMATED by the discovery process step. Those TYPES are the components, or key word set which I call Frequent_Words. So at the beginning of the step, the text is tokenized, Frequent_Words are recognized, and the remainder of the situation is represented using problem reduction.
Problem reduction works for Situations because there is some way to model some aspect of any English word. I select the set Frequent_Words after sampling a few times to get the words in patent claims which had a sense of the commonly used structural words, something like the list below:
(claim comprising method system apparatus of the a plurality all one or and each every for …)
I have most recently chosen about 1,300 words to be those frequent words which are being used syntactically and those which carry semantic meaning – the rare words in the sample. That seems to work well for analyzing patent claim language.
HTH,
-Rich
From: ontolog-forum-bounces@xxxxxxxxxxxxxxxx [mailto:ontolog-forum-bounces@xxxxxxxxxxxxxxxx] On Behalf Of Rich Cooper
Sent: Tuesday, January 03, 2012 10:00 PM
To: '[ontolog-forum] '
Subject: Re: [ontolog-forum] Self Interest Ontology: Emotions in animals
Dear Ken,
My comments are embedded into your post below,
-Rich
Sincerely,
Rich Cooper
EnglishLogicKernel.com
Rich AT EnglishLogicKernel DOT com
9 4 9 \ 5 2 5 - 5 7 1 2
Rich,
Your examples point to cases where occurrences are (at least somewhat) repeatable vs. one off situations where the debate is often what are similar occurrences against which we can accumulate corresponding data.
[RGC] Do you mean, by one off situations, that there is no modularity of components that can be put together to describe each unique situation? In my experience, there is not a practical limit on how much you can develop very simple models, refine and rerefine them with lots of experience, and improve nearly anything you can define.
The learning curve (see the book "Bionomics") consistently shows a gain in anything measured and used to modularize actions into contexts, decompositions, activities, objects, as per some widely understood modeling language such as IDEF0. It doesn't have to be invented. The consistent learning curve shows that, for each doubling of experience, there is a gain of about 20 to 30 percent. It decays exponentially for cost curves at that rate, or it grows exponentially for value curves. And of course you can imagine using vectors of values and costs to guide further refinement.
That is the software implementation of a learning cure based on database discovery. The database portion can be grown like a forest over the metadata tables, mapping symbols and terms, whether axioms or Observations. The result is an automatically generated ontology, in part, because much of it can be tool based. But the Observer will have to be there, kinda like in physics.
Intervention or nonintervention in another country is certainly full of self-interest (both by those who intervene and those who don't), but matching two historical situations is often nontrivial, especially when those doing the matching are also exhibiting self-interest.
I agree. I don't mean that the task is small, just that it can be specified in terms of data organization plus supporting procedures, constraints, dictionaries and search processes. That is just the first step in a problem reduction process. The next step is to identify what data is available for analysis. I consider us in this step at this time. Next we have to generate a decomposition (my words) of the context. That is, how can we specify general linguistic components that can be configured to solve or simplify many kinds of corpus analysis discovery problems. One of those problem targets is to specify a cost effective method to automatically generate ontologies.
I described a couple posts ago how that automated method can be implemented with the database analysis methods I described a couple posts before that. That may have not been obvious then, so I am trying to make up by explaining it that way.
So some models are easier to build than others, and the valid use of models depends on us remembering that.
Ken
That is certainly wise advice. Perhaps we could also go too far in the sense of Isaiah Berlin. There is a time to stop building models and to try a couple of discovery steps to make progress. That is what I am hoping to stimulate.
You are right; all models have to be cost justified if possible. But small ones might slide under a regulatory limit or two. Then just one-offs of implementations seems to make sense to try.
Then, we will have processes in place to analyze the data that is actually available within that step. The bigger resources will be needed when we want to scale up and employ thousands of computational linquists to tend to the databases. But that will take time.
-Rich
Dear Ken, Doug and John, et al,
Ken wrote:
… we could come up with numerous other examples where action was needed and what we believe would have been a worse situation was averted by those actions. Some are fairly clear cut; others are the grist for historians.
Agreed; it isn't a simple model for most situations of interest. But knowing how deeply self interest is layered on emotions, we could develop models.
The many explanations of observed behavior differ by the Observer, who is not able to reliably match the next Observer's model. It is our own projections we build into our models. But by finding ways to develop and test models, we become able to distinguish among those that work within some validatable boundaries, and those that simply don't work.
While doing R&D at Hughes, I sometimes worked in electronic warfare. That is, EW is the art of listening electronically to emissions. From those emissions, EW designers are able to model the behavior of the emitters. But the emitters belong to somebody who is very interested in who is watching them. A jeep with a radio bouncing down a jungle trail, compared with a map of the trails in the area, can be used to predict where the jeep is going. Tracking multiple vehicles with emitters let the situation be more clearly modeled, and let the predictions be analyzed, improved, eventually validated. So jeep drivers have an interest in minimizing their emissions.
Submarines no longer use active sonar, not EVER. They now listen to outside noises, and use algorithms and databases to model the observed emissions. You may remember about ten years ago that a submarine surfaced right into a commercial vessel, drowning dozens. The commercial vessel must not have been running (no mechanical sound emitted). It must also not have been radiating radio frequency emissions. The vessel must have been completely stopped in the water and quiet on every available emission band.
Radar was once active, sending pings at regular intervals and measuring distance that way. With the EW advances, major power militaries learned to detect emissions without their radars, sonars, and other sensors emitting recognizable pulses that the emitter could recognize. Sending out pings gives away the position of the radar, the jeep or the submarine, because the pings are emissions themselves, which give information about the sensor to the observed targets.
Stealth technology was developed to improve the defense situation. By not emitting or even reflecting emissions, stealthy devices can remain unobserved.
The point is this. We can use the many refined EW techniques to model self interest.
This process can start with things we can reliably sense, and then construct models of the situation we believe is indicated by those sensible things. Models that match the evidence detected by the Observer can be kept, but those models which don't validate can be revised, improved and tried again in various situations. Ultimately, with a lot of work, we can determine which models are valid for which situations.
The usual discovery process is shown below as adapted to reflect the linguistic mining of messages. The process is described in much greater detail in my patent, the 7,209,923. Said patent is attached to this email if you are interested: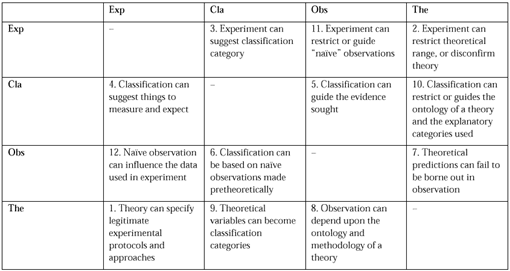 To repeat your statement:
… we could come up with numerous other examples where action was needed and what we believe would have been a worse situation was averted by those actions. Some are fairly clear cut; others are the grist for historians.
Yes, we could. So recording those actions and objects as sensed by listening to the emissions is the way to do it. The most likely source of those actions and objects are human Observers. The Observer needs tools to develop the models, to organize the data, to fully discover whatever is observable, generating a theory that validly models the actions, the situations before the actions, and the situations that occur after the actions.
That is the way I see a Self Interest Ontology being developed. The '923 describes how I am doing so with the USPTO patent database. Even very mechanical documents such as patents exhibit subjective judgments, by each Observer (e.g., inventor, examiner, attorney, agent, litigator). The file history of a patent is a document that is also public, easily accessible, and available on the web.
One example source of information which is, unfortunately, only in voice emissions, not easily converted to text. That source is a TV series call "In Treatment" which is also available on the web. It details stories in handy thirty minute chunks with only two people 90% of the time. The dialog is direct, honest psychological treatment of unusually conflicted individuals. The vocabulary they use, the syntax they use, is of limited scope, and the characters are deeply developed by the plot.
Also, there are many, many shows available, for example:
http://btjunkie.org/torrent/In-Treatment-Season-1/4358f915d28d17f71174da3167fb318d1505c96e0f87
That URL will download forty three shows in one season.
The point is that there are available ways to gather empirical data, to construct models that describe it in FOL, and to have Observers discover new linguistic realities that can data mine human self interest based on the emissions. That would of course have to include the Observers doing the modeling, because their idiosyncratic actions and objects have to be nulled out of the model.
JMHO,
-Rich
Sincerely,
Rich Cooper
EnglishLogicKernel.com
Rich AT EnglishLogicKernel DOT com
9 4 9 \ 5 2 5 - 5 7 1 2
It is easy to point to examples where intervention seems to cause more problems than we suspect would have happened by leaving the system to sort itself out. However, I'm sure we could come up with numerous other examples where action was needed and what we believe would have been a worse situation was averted by those actions. Some are fairly clear cut; others are the grist for historians.
Unfortunately, our what-if scenarios don't really tell us whether what in hindsight looks like success or a disaster would, in fact, have a better outcome if different action/inaction occurred.
Ken
---------------------------------------------------------------------------
Dr. Kenneth Laskey
MITRE Corporation, M/S H305 phone: 703-983-7934
7515 Colshire Drive fax: 703-983-1379
McLean VA 22102-7508
Dear John,
You wrote:
Things would have been far better for the Afghan people, Pakistan, the US, the Russian people, and the entire world if Reagan and the CIA had done nothing.
Yes, in generalized form, the conclusion I draw is that organizations err on the side of doing too much, especially as suggested by the ideas of Isaiah Berlin as documented by Curtis, and as supported by the numerous examples which he shows.
So more generally, the consistently human error is in doing too much when we think we are in the right. That has held true for so many examples in history that it can assumed that every organized plurality of people with a common self interest will eventually go too far if not stopped.
The notion of checks and balances is sometimes thought to limit just how far the organization can go. Jefferson was the architect of the American system of checks and balances. In Brittain, Cromwell hanged the then king for treason. There was a period of time when England did without a king, but the upper classes, I am told, wanted to cement their roles as ruling class, and reinstated the royal line after Cromwell's death. Britain's political structure of parliament and elections were intended to provide checks and balances there, I am told by historians.
Dictatorships of all persuasions seem to appeal to the self interest of the dictator and those few forces that keep him in power. The word "dictate" from Latin simply means to state, much like dictation machines in the old technologies of the fifties. The connotation is that the dictator has the power to make his statements become real. The rest of the citizens can dictate until the llamas and camels come home, but there won't be a reality that corresponds to their dictations. Syria is the most contemporary example I can think of.
Democracies spread the base of power somewhat by letting citizens express their choice through voting within a limited set of options. That means the self interest of the electorate has a greater voice. But it doesn't mean democracies are any less subject to Isaiah Berlin's warning. Athens warred on other city states, forcing their own self interest to be realized. The North invaded the South in the American civil war to enforce their economic interests.
So the only concept of which I am aware that can limit the power of any organization is some kind of well constructed set of checks and balances, but even that is not sufficient. It is only a step in the right direction until we can come up with a better way to limit organizations more effectively.
But there will always be zealous advocates who persuade organizations to do too much. Sad, but true. I don't see a way to stop said organizations from doing too much. But by modeling self interest, we may be able to learn how to detect, perhaps even automate the detection, of when the organizations are going too far.
JMHO,
-Rich
Sincerely,
Rich Cooper
EnglishLogicKernel.com
Rich AT EnglishLogicKernel DOT com
9 4 9 \ 5 2 5 - 5 7 1 2
-----Original Message-----
From: ontolog-forum-bounces@xxxxxxxxxxxxxxxx [mailto:ontolog-forum-bounces@xxxxxxxxxxxxxxxx] On Behalf Of John F. Sowa
Sent: Tuesday, January 03, 2012 1:38 PM
To: ontolog-forum@xxxxxxxxxxxxxxxx
Subject: Re: [ontolog-forum] Self Interest Ontology: Emotions in animals
On 1/3/2012 1:58 PM, Rich Cooper wrote:
> But the very righteousness that drove the revolutionaries,
> they felt, justified taking inhumane steps to force people
> to be in line with their plans, since they felt their plans
> would bring good. Instead, their convictions turned out
> to be the cause of their downfall.
Fundamental principle: never trust anybody who claims
to know the will of God or anything else that is too
complex for anybody else to understand.
> The Sandinistas, for example, which even Reagan supported.
Reagan also funneled money through the CIA to support
Osama bin Laden in the fight against the Soviet Union
in Afghanistan. He even sent money to the Taliban to
recruit and train more fighters against the USSR.
That was another example of people who thought that they
were doing what was right. Things would have been far
better for the Afghan people, Pakistan, the US, the
Russian people, and the entire world if Reagan and the
CIA had done nothing.
John
_________________________________________________________________
Message Archives: http://ontolog.cim3.net/forum/ontolog-forum/
Config Subscr: http://ontolog.cim3.net/mailman/listinfo/ontolog-forum/
Unsubscribe: mailto:ontolog-forum-leave@xxxxxxxxxxxxxxxx
Shared Files: http://ontolog.cim3.net/file/
Community Wiki: http://ontolog.cim3.net/wiki/
To join: http://ontolog.cim3.net/cgi-bin/wiki.pl?WikiHomePage#nid1J