Here is a snippet from that eBook relevant to ontology: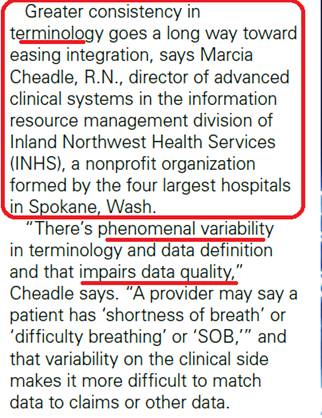 Note that the "phenomenal variability" occurs NOT in the official database model where the columns are defined, but in the actual data which the doctor, nurse, technician or receptionist types into the EHR forms.
So interoperability problems she encounters are NOT due to the ontological type structuring, but due to the HUMAN AGENTS entering the column VALUES into the EHR forms.
My doctors use EHRs, and since I've visited doctors at least half a dozen times in the last six months, and lab techs about the same number, I find they are all very frustrated with the constraints already imposed on data entry by the first generation of EHRs. My cardiologist spends three fourths of our time together trying to enter new test data into the EHR, which is extremely tedious, with a poorly designed interface due to the complexity of the EHR ontology, which is imposed on the program. I was recently a witness in an EHR related litigation, and after reviewing the XML specs imposed on EHR databases by government HHS regulations, I can see some very difficult experiences happening with providers.
That kind of interoperability problem is much more a problem of data variability and complexity, not a problem of the ontology being "wrong", but of there being TOO MUCH DEPTH of ontology challenging the providers. It will get worse when ICD 10 comes in soon.
My conclusion is that too much depth of ontology makes a program unusable due to efficiency losses.
-Rich
Sincerely,
Rich Cooper
EnglishLogicKernel.com
Rich AT EnglishLogicKernel DOT com
9 4 9 \ 5 2 5 - 5 7 1 2
-----Original Message-----
From: ontolog-forum-bounces@xxxxxxxxxxxxxxxx [mailto:ontolog-forum-bounces@xxxxxxxxxxxxxxxx] On Behalf Of Rich Cooper
Sent: Thursday, December 12, 2013 12:02 PM
To: '[ontolog-forum] '
Subject: [ontolog-forum] Interoperability
I found this eBook (free to download) on the
Fierce site. You have to register for the eBook
download, but its free.
http://www.fiercehealthit.com/offer/interoperabili
ty?utm_medium=nl&utm_source=internal&source=listin
g
-Rich
Sincerely,
Rich Cooper
EnglishLogicKernel.com
Rich AT EnglishLogicKernel DOT com
9 4 9 \ 5 2 5 - 5 7 1 2
_________________________________________________________________
Message Archives: http://ontolog.cim3.net/forum/ontolog-forum/
Config Subscr: http://ontolog.cim3.net/mailman/listinfo/ontolog-forum/
Unsubscribe: mailto:ontolog-forum-leave@xxxxxxxxxxxxxxxx
Shared Files: http://ontolog.cim3.net/file/
Community Wiki: http://ontolog.cim3.net/wiki/
To join: http://ontolog.cim3.net/cgi-bin/wiki.pl?WikiHomePage#nid1J