Amanda,
            I agree with your recommendation. The spirit of openness in the Ontolog Forum is consistent with being able to see who is a member, but protecting the addresses shields us from spammers who might grab the whole list en masse.
- Steve
Steven R. Ray, Ph.D.
Distinguished Research Fellow
Carnegie Mellon University
NASA Research Park
Building 23 (MS 23-11)
P.O. Box 1
Moffett Field, CA 94305-0001
Email:    steve.ray@xxxxxxxxxx
Phone: (650) 587-3780
Cell:      (202) 316-6481
Skype: steverayconsulting

From: ontolog-forum-bounces@xxxxxxxxxxxxxxxx [mailto:ontolog-forum-bounces@xxxxxxxxxxxxxxxx] On Behalf Of Amanda Vizedom
Sent: Thursday, November 05, 2015 8:01 AM
To: [ontolog-forum]
Cc: ontolog-forum
Subject: [ontolog-forum] Membership visibility [was: Re: Why is ontolog-forum moving to Google Groups?]
Alex and All,
In setting up the group, I mostly erred on the side of privacy. This is an example of that general pattern. These decisions are up for discussion and revision, but it was better not to hold things up during the initial setup and transfer.
There are two main settings that control the visibility of member information: the first controls who can see the list of members; the second controls who can see members email addresses. Currently, both are restricted to owners and managers of the group.
I recommend changing this to enable all members to see the members list, while keeping the email addresses of members private. Any member accessing the group via the web will then be able to see the list of members, but members' email addresses will not show.
If there are no unresolvable objections to this approach, I will make the change.
On Thu, Nov 5, 2015 at 3:04 AM, Alex Shkotin <alex.shkotin@xxxxxxxxx> wrote:
And why we can't see members of the group like here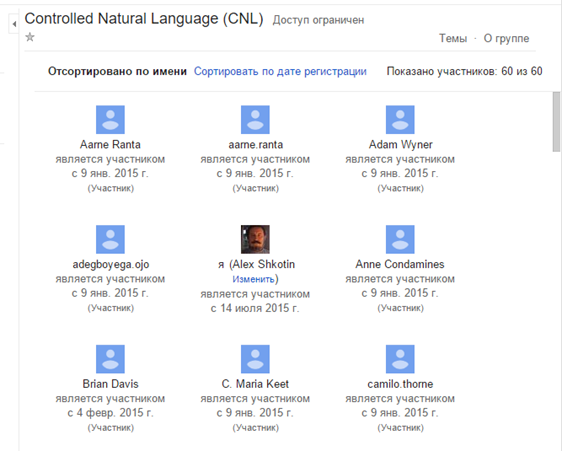 ---
No virus found in this message.
Checked by AVG - www.avg.com
Version: 2015.0.6173 / Virus Database: 4457/10948 - Release Date: 11/04/15