Hi David,
What you are looking for is not ontology per se, but the discovery of patterns in textual data. You may need a text mining capability. For example, you can read about one which I described in my patent document at:
http://www.englishlogickernel.com/Patent-7-209-923-B1.pdf
That document describes a method for making sense of textual tokens in sequence, using each token with respect to a pattern being matched against text and data. Predicates are used to identify matches of each sample token with its referents in a database of text samples intermixed with data fields.
You can use this kind of method to perform the classical discovery process (also described in the paper above) on the data to experiment, theorize, classify and explain the database of texts. These four processes interface in various ways as shown in the diagram below from figure 13 of that document: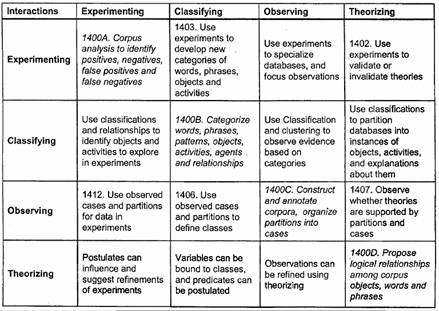 At present, that technique is being developed into a specialized vertical market to match selected patent claims against documents describing technical details. The goal is to match a claim against all documents that could possibly be practicing the patent claim. The approach used for that purpose is detailed in the patent application at:
http://www.englishlogickernel.com/Pat20090070317.pdf
If your goal is to analyze randomly chosen documents (programs, papers, books, …) for textual patterns, you may have to be more detailed about a specific need you have.
HTH,
-Rich
Sincerely,
Rich Cooper
EnglishLogicKernel.com
Rich AT EnglishLogicKernel DOT com
---
From: ontolog-forum-bounces@xxxxxxxxxxxxxxxx [mailto:ontolog-forum-bounces@xxxxxxxxxxxxxxxx] On Behalf Of Pat Hayes
Sent: Tuesday, January 26, 2010 10:49 AM
To: David Eddy
Cc: [ontolog-forum]
Subject: Re: [ontolog-forum] Context in a sentence
On Jan 25, 2010, at 8:41 PM, David Eddy wrote:
Ferenc -
On Jan 25, 2010, at 11:16 AM, FERENC KOVACS wrote:
This is what MT people do not seem to understand, becasue they believe in Frege who says that the sense of a sentence is derived from the sense of its constituents (words).
I'm not clear on what you're saying here. "Frege" conveys no information or context for me.
What I'm GUESSING you're saying is what I think is a significant divide in the MT (machine translation) community.
In 2006 on a lark I attended a MT conference here in Cambridge simply because I could. Other than being amused by the Russian-to-English translation fumblings in the early 1960s, I have absolutely nothing to do with MT other than general intellectual curiosity.
In the opening meeting the out-going president mentioned in his opening remarks about the long standing dispute/battle/squabble/wrangle over the basic point:
(1) the entire meaning of a message is self-contained in said message, or
(2) the complete meaning of a message could depend on contextual information OUTSIDE of the message.
I couldn't believe my ears, since I could not then & can not now believe in #1. It's just not a world I've experienced. Is #1 possible? Yes. How much of the time does #1 happen? I'd say not much.
I double checked to be sure I correctly heard what I thought he'd said & he confirmed the above two decidedly opposing points of view.
Reading the NY Times is not the problem I'm interested in. Those are documents written by humans, edited by humans for readability & intended for more or less widespread human consumption.
I want something--MT? Ontology support?--that can read Fortran, Jovial, COBOL. Java, PHP, Ruby, C, etc. (oops... that's a computer language) documents & make (more) sense out of said documents.
More sense for who or what?
These are textual artifacts (therefore "documents"?) which may or may not be written by humans, they're decidedly NOT edited for readability, and they are really not intended for human consumption.
Well, most of them were certainly designed with this goal in mind. Programs in Fortran, COBOL, etc. are written and read by programmers, who are arguably human beings of a kind.
AND much of the context in software code has been entirely stripped away. So much to most of the context is external to the message/document I'm trying to make sense of.
AND... not to belabor the obvious, these documents can be stunningly devoid of any sort of formal, mathematical logic since they're dealing with regulations, laws, & business practices which often defy logic. If a law states that under thus & such circumstances 1 + 1 = 3, then that's the way it is.
But the computer will still evaluate it to false :-)
Is "ontology" going to help deal with my problem, or am I peering down the wrong rabbit hole?
I think, unfortunately, the latter.
------------------------------------------------------------
IHMC (850)434 8903 or (650)494 3973
40 South Alcaniz St. (850)202 4416 office
Pensacola (850)202 4440 fax
FL 32502 (850)291 0667 mobile